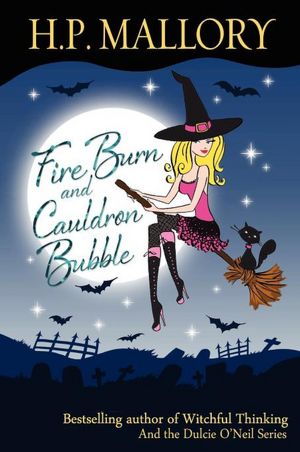 Image courtesy of BarnesandNoble.com
First of all I have to say is that not an incredibly cute book cover, how could I not be excited about a book that looks like that. It's the first of 6 books in an urban fantasy/ paranormal romance series based around a Witch name Jolie Wilkins by H.P. Mallory.
'Life isn't bad for psychic Jolie Wilkins. True, she doesn't have a love life to speak of, but she has a cute house in the suburbs of Los Angeles, a cat and a quirky best friend.
Enter Rand Balfour, a sinfully attractive warlock who insists she's a witch and who just might turn her life upside down. Rand hires her to help him solve a mystery regarding the death of his client who also happens to be a ghost. Jolie not only uncovers the cause of the ghost's demise but, in the process, she brings him back to life!
Word of Jolie's incredible ability to bring back the dead spreads like wildfire, putting her at the top of the underworld's most wanted list. Consequently, she finds herself at the center of a custody battle between a villainous witch, a dangerous but oh-so-sexy vampire, and her warlock boss, Rand.
I can't say that I'm entirely excited about the use of the term warlock but you can't have everything and it's fantasy so we'll let it slide. If you're interested the book is currently
free
in the Kindle market. Yes I know I'm
cheap
thrifty, but if I like the first book I do buy the rest of the series.
Happy Reading!